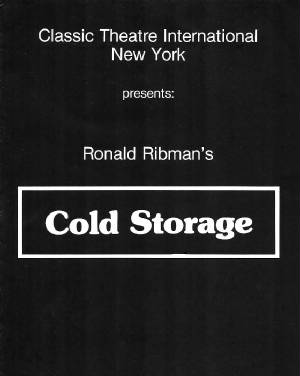 In Cold Storage the stage becomes a hospital rooftop terrace where the dying employ a special authority - the metaphysical intensity of their condition - to try to decipher the much hazier process of living.
In Cold Storage the terminal condition becomes a bully pulpit, endowed not so much with a special wisdom as with a special call upon our attention. In an age so full of static, or psychobabble, or plain hectic communication, the problem is getting anyone to pay attention. When the dying speak, we listen.
Ronald Ribman's play is graceful, intelligent and worthwhile. Its dramatic action is slight. Essentially it is less a play that a dramatic dialogue and, in a sense, it is less a dramatic dialogue than a demonstration of a witty and touching therapy session conducted on stage.
The partners in this therapy are one more theatrical odd couple. One of then is Parmigian (of Armenian, not Italian, lineage) -- an old fruit dealer who has been ill for the last six months. He is a spouting Charon, an upstoppably loquacious guide to the rules of life for the dying. The other is Landau, his unwilling pupil...unwilling because he has just arrived in the hospital and does not believe he is going to die, and unwilling because there is an additional mystery to him that keeps him taciturn and recalcitrant.
Parmigian sees life and mystery in everything. He talks voraciously, exploring and explaining the world. He is coarse, funny, shocking, impertinent and interfering. His mission is to rouse Landau - an expert in art objects - from his urbane reserve, from his veneer of civility, from his insistence that he is merely in the hospital for a check-up. But his reticence and seeming poise reveal themselves to be the defense of a man tormented by his childhood trauma and terrified by the prospect of fatal illness.